Most Popular Packages
We keep Todays Price Down without compromising the Quality.Your Funeral Home & Adelaide Funeral Directors.
"Guiding you with compassion through the journey of honouring and celebrating a life well-lived."
Signature Funeral Services have been planning and providing celebration of life ceremony's in Adelaide since 2007. In that time, we've helped countless grieving families to create fitting memorials for their loved ones.
Our burial and cremation packages can be fully customised to represent, honour and commemorate the life of your loved one and give them the fitting farewell that they deserve.
We understand that you may be going through a challenging time, and want to assure you that we're here to help. Our funeral home has a team of experienced and compassionate local Adelaide funeral directors who will guide you through the entire process. We take pride in offering personalised services tailored to meet your specific needs and preferences.
Throughout the process, we'll be here to listen to your concerns, answer your questions, and offer support. Our funeral directors will handle all the necessary arrangements with utmost professionalism and attention to detail. From coordinating with the cemetery or crematorium to arranging transportation and obtaining required permits. We'll take care of everything so that you can attend to being creative, focusing on the characteristics and accomplishments of your loved one, to be incorporated into the service.
We believe Adelaide funeral services shouldn't come down to cost
As one of the most ethical funeral homes Adelaide has available, we believe that cremation and burial services shouldn't cost the earth. That's why we offer fixed prices on all our services, with all-inclusive packages and fair pricing as standard providing peace of mind.
Our fixed-price, all-inclusive packages include everything from mortuary care and preparation, newspaper notices, transportation and all certification to liaising with clergy members, florists and caterers, music arrangements, caskets, and memorial pages.
We also offer preplanning and prepayment for all our packages, so that family and friends are spared having to make difficult decisions at a time when they're grieving.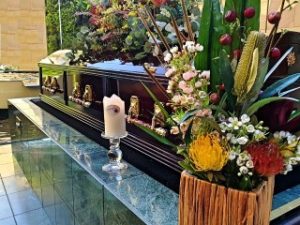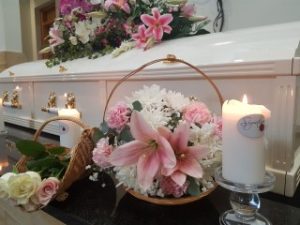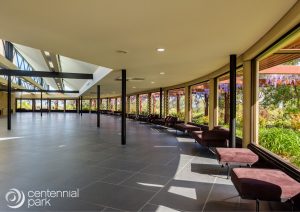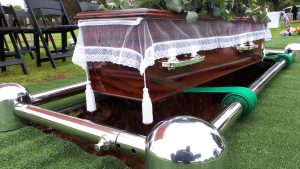 Upcoming & Past Services
We understand that cultural traditions and religious customs play an important role in saying goodbye to a loved one. Our experienced team is knowledgeable about a wide range of cultural and religious practices, and we work closely with families to incorporate these customs into the final tribute.
What People are saying
"Signature Funerals were amazing to help us arrange our beautiful Mum's Funeral.. So passionate in the way they handle everything from start to finish.. I would recommend them to anyone who wants a professional job handled in a sad time…they were amazing…" – Jodie
"Absolutely the most helpful, professional and most beautifully presented. Took so much care of my family at this tragic time and everyone was so so amazing! I highly recommend letting these guys help you when a loved one has passed" – Kiana
Our Adelaide Funeral home
We understand that choosing a venue and final resting place can be difficult. We offer a choice of chapels at Enfield Memorial Park, Salisbury Memorial Park or Centennial Park, providing a peaceful setting for the service. Alternatively, we can accommodate services at your family's place of worship, a church, or in your home or garden. Our goal is to create a personalised and meaningful experience. So finding a funeral place with signature will not be a difficult choice.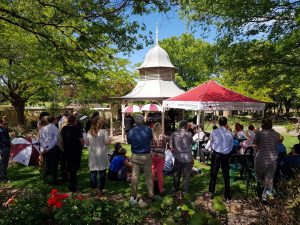 Choosing a Funeral Director in Adelaide
When someone dies, it's important to choose a caring and experienced person to help with planning the funeral.
With over 17 years of experience as a trusted funeral home & Adelaide funeral director. Signature Funerals have helped countless bereaved families to organise suitably personal services at various locations across the greater Adelaide area and surrounding suburbs like Campbeltown. Without having the extra heartache that paying for an overpriced farewell can bring.
Our aim is to offer fixed-cost package at a fair price, so that you know exactly what you're paying for and how much it's going to cost.
Choose Signature Funerals for professional and caring service at every step. We will take care of all the details, including arranging the service. Coordinating with the cemetery or crematorium, and providing grief support.
Celebration of life at Salisbury Memorial Park
Signature Funerals are committed to providing affordable funeral at Salisbury Memorial Park without sacrificing quality or personalisation. Families can honor their loved ones in a beautiful and meaningful way while saving money on expenses. The experienced staff at Signature will work closely with families. So we create a service that meets your unique needs and budget.
Offering a range of options for burial and cremation. By choosing Signature Funerals, families can rest assured that they will receive compassionate care and support during this difficult time.
Signature Funerals is a compassionate funeral service provider. They offer a range of services to assist families in honoring and celebrating the lives of their loved ones. Our experienced staff at Salisbury Memorial Park dedicate themselves to providing personalised care.
Attention to each family they serve. We are committed to helping families through the grieving process with empathy and understanding.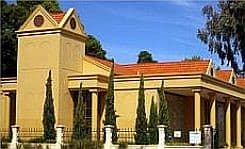 Providing beautiful, Burial and Cremations without the exorbitant costs
While there are many funeral directors Adelaide-wide, we like to think that we're different from the rest. Because we want to make organising a life celebration straightforward, without taking away the personal touches.
So, while our all-inclusive packages include everything from mortuary care and preparation. Newspaper notices, transportation and all certification to liaising with clergy members. Florists and caterers, music arrangements, selection of caskets, and memorial pages. You will always have a service that reflects and honours the person and the life they lived.
We have packages for all budgets, so contact our South Australian funeral director in Adelaide locals trust.
At Signature Funerals, we know every family is different. We'll help you plan a special ceremony that honors your loved one's life and beliefs. We offer a range of options, including traditional funerals, eco-friendly options, and pre-planned funerals.
Humble Adelaide cremations, burials and funeral services that honour the deceased
The loss of a loved one brings pain and suffering that will take time to heal. Because knowing that you have a trusted funeral director in Adelaide, South Australia because we are on your side.
We are a trusted funeral service in Adelaide. we will work with you to give your loved one the send off that they deserve.
Whether you prefer to hold the ceremony in Adelaide's Enfield Memorial Park, in a beautiful garden or at the home of your loved one, we'll ensure that the entire service pays tribute to the deceased in the most fitting way.
Organise and pay for your funeral
Firstly our goal is to make bereavements less worrying and stressful for everyone involved. So, as well as helping friends and family members of the deceased organise appropriate celebration of life. Secondly We also offer people the opportunity to plan and prepay for their own funeral.
Therefore giving you the opportunity to personalise every detail of the service. Because it will commemorate your passing. This option is ideal for those that want to alleviate the stress of having to organise and pay for a funeral service from their family members.
Speak to our trusted funeral director in Adelaide that people can rely on for peace of mind
If you need help with a funeral in Adelaide, you can talk to our trusted funeral director. They are someone you can rely on and they will give you peace of mind during this difficult time. We cover all of South Australia, including Adelaide, Elizabeth, Enfield, Salisbury, and Centennial Park.
To make an appointment, you can call us at (08) 8281 0260 or 1300 199 299. You can also send us an email at [email protected] or fill out our online form.
We are one of the best funeral homes in Adelaide. We understand how important it is to say goodbye to your loved ones in a respectful and personal way. Our caring funeral director in South Australia knows how to plan a meaningful farewell. They will take care of all the details to honour the lives of your loved ones.
In order to provide dignified funerals all over Adelaide. There are peaceful chapels at Enfield Memorial Park and Centennial Park where we can hold services. We can organise funerals at other places in Adelaide, like churches, chapels, and cemeteries, If you want, we can even organise a memorial tribute in your own home or garden.
Our goal is to provide special funeral services in Adelaide that meet your specific needs. If your loved one had certain wishes or if you're not sure what to do, we are here to help. Our team of professional arrangers in Adelaide will give you advice and support throughout the whole process.
As one of the leading Adelaide funeral homes, Signature Funeral Services understand how important it is to give your loved ones a dignified and personal farewell.
What Does an Adelaide Funeral Director Do?
Funeral Arrangers are special people who help families when someone passes away. They take care of important things like arranging transportation, helping with paperwork, and organising memorial services.
Caring for Families in Adelaide
Adelaide funeral directors understand that families need comfort and support during sad times. They are there to listen, offer kind words, and help with any questions or worries families may have.
Personalising the Farewell
The people at Signature know that everyone is unique, and they want to make sure the farewell is special. They offer choices, like different types of caskets, beautiful flowers, and ways to remember the loved one.
Being There for You
Our professional Arrangers are understanding and compassionate. They are here to support families emotionally, offering a shoulder to lean on and helping them through their grief journey.
Transparent Pricing
We believe in being honest about the cost of services. We will explain everything clearly, so families know what to expect and can make informed decisions about the funeral arrangements.
What Families Say
Families who have worked with Signature Funerals have shared their positive experiences. They talk about how these caring professionals helped them during a difficult time, making things a little easier to handle.
Contact Us
If you need assistance or have any questions, please reach out to our staff. They will provide you with clear pricing to help make this difficult time a little easier.. Reach out to our Adelaide funeral directors for the caring help you need.
Funeral Homes in Adelaide
Choosing all the elements for a celebration of life is never easy. As one of the one the leading funeral homes in Adelaide. we have over a decade of experience. Because we help bereaved relatives to create beautiful and personal services that really reflect the lives of their loved ones.
Choose Signature Funeral services for a beautiful burial or cremation. Get efficient and dedicated customer service from one of Adelaide's best funeral homes.
We tailor our all-inclusive packages to meet your individual and unique needs. We always offer a fixed and fair price.
Our inclusive packages include:
Mortuary care and preparation
Arranging death the notice
Transportation to the service and to the cemetery or crematorium
Completing all relevant certification.
Creating memorial pages for your loved one
Choice of caskets, from solid wood to eco-friendly options
The Best Funeral home in Adelaide
Our  arrangers can Pre-plan and pre-pay for your funeral to ease decision-making and prevent unexpected expenses. Our all-inclusive packages allow you to choose how you want to be remembered. Pay and plan ahead for the ultimate freedom in commemorating your life.
You can choose the location for your final resting place. Including the music you want to play at your service. It helps your loved ones when they are grieving.
If you'd like to know more about the pre-planning and pre payment choices available through our  funeral directors in SA, one of our dedicated staff will be more than happy to talk you through your options.
Caring Adelaide Funeral Arranger for Your Family
At Signature Funeral Services, we understand the importance of providing compassionate support during difficult times. As an Adelaide funeral arranger, we are dedicated to assisting families in organising memorable farewells for their loved ones.
The Role of a Funeral Arranger
When someone we care about passes away, it can be overwhelming for their family to plan a funeral. A funeral arranger is a person who helps the family with all the arrangements. In Adelaide, people know Signature Funeral Services for their caring approach.
Personalised Farewells in Adelaide
Every person is unique, and their farewell should reflect that. As a funeral arranger in Adelaide, Signature Funeral Services takes the time to listen and understand the wishes of the family. They help plan a personalised funeral that honours the life of the departed.
Attention to Detail
Funeral arrangements require careful attention to detail. Signature Funeral Services takes care of all the necessary paperwork, including obtaining the required permits and certificates. They ensure that everything is in order, allowing the family to focus on remembering their loved one.
When it comes to saying goodbye to a loved one, Signature Funeral Services is the trusted funeral arranger in Adelaide. They offer caring help and personalised services to families in need during this challenging period, paying close attention to every detail. Contact Signature Funeral Services for a caring and memorable farewell that honours the life of your loved one in Adelaide.
Signature Funerals: Adelaide's Funeral Parlour
In Adelaide, Signature Funerals stands out among the compassionate funeral parlours, dedicated to providing solace and support to grieving families. Let's explore how Signature Funerals, one of Adelaide's leading funeral parlours, assists families in creating heartfelt farewells for their loved ones.
The Importance of Funeral Parlours
Funeral parlours and chapels are special places where families gather to pay their respects and say goodbye to their departed loved ones. Signature Funerals, as one of Adelaide's trusted funeral parlours, offers a comforting environment and a range of services to assist families during their time of loss.
Signature Funerals' Commitment to Care
Your very own Signature Funerals in Adelaide is renowned for its unwavering commitment to providing compassionate care. Their dedicated team understands the emotional challenges families face and is there to offer guidance, support, and understanding throughout the funeral planning process.
When it comes to honouring loved ones with compassion and care, Signature Funerals stands out among Adelaide's funeral parlours. Signature Funerals assists families in creating meaningful farewells for their loved ones. They achieve this by providing personalised services, paying close attention to details, and understanding the grieving process. Contact Signature Funerals in Adelaide for a compassionate and meaningful funeral experience that honours and remembers your cherished family member.
Contact Us Today!
To find out more about why our personal service makes us one of the most trusted Adelaide funeral homes, simply get in touch with us by calling (08) 8281 0260 or 1300 199 299. Alternatively, you may prefer to complete the online contact form or email [email protected]. Our staff are here to support and guide you during this tough time in your life.
We're one of the most trusted funeral directors in Adelaide, South Australia. Because we have a well-earned reputation for delivering moving and memorable services. So they are as unique as the life of the people that they celebrate.
Signature Funeral Services is Adelaide's funeral home that is known for simple and dignified celebration's of life. Find the funeral plan that fits the way you want to remember your loved ones. Visit our website or call us to learn more.
Make It Personal.
Ask about this alternative and how we make this possible.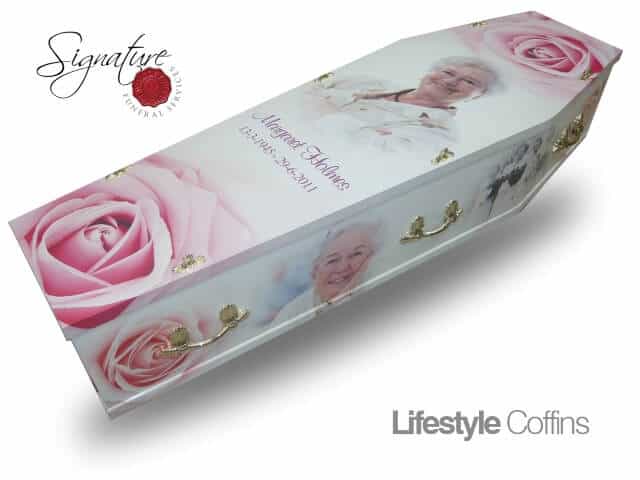 See The Full Range Here
Contact Signature Funeral Services in Adelaide
As one of the leading funeral homes Adelaide has available. We're here to support you through your choices for the funeral.
To make initial contact with our funeral home and one of our caring funeral directors. You may call (08)8281 0… or 1300-199-…, or email us by clicking here.
Signature Funeral Services
Client Services
PO Box 494
Enfield SA 5085
Phone:(08)82810260 or 1300199299
Fax: (08) 82810222
Email:
[email protected]
Our Funeral Home and Adelaide Funeral Directors are
Proudly South Australian Owned & Operated
Our Video Channel shows actual services with Permission