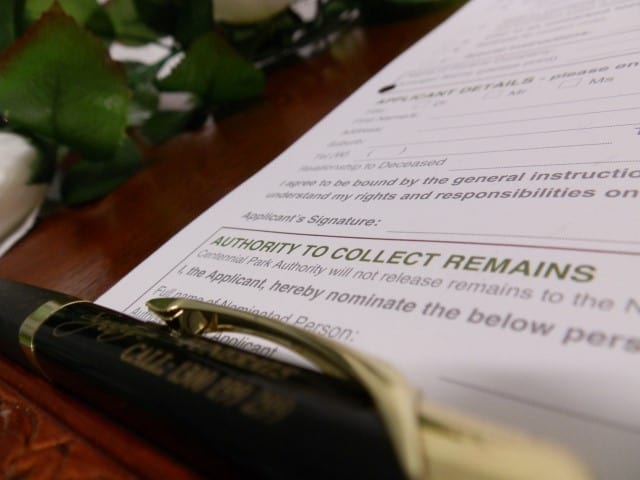 Call 1300 199 299 or (08) 82810260 all day & all night everyday of the year
"Peace of mind and consideration for family and friends are two good reasons why many people plan ahead, so the financial burden does not fall on those you care about."
Making Funeral Pre-Arrangements
The time of your passing is an emotional and challenging period for your family. That can make it difficult to contend with the financial obligations and planning decisions that accompany making funeral arrangements. You can relieve your family of this burden when you choose to make the preparations and pre-pay for a complete, dignified funeral from Signature Funeral Services.
Not just a way to ensure that your family does not feel a financial impact, it provides you with the opportunity to express your wishes clearly. Making your own arrangements for the funeral allows you to make these deeply personal and meaningful choices in your own time.
The links we've included below contain downloads with some helpful pre-arrangement instructions and a family record. Use this form to accurately record important information and dates. This is also your opportunity to consider how best to record your desires.
After working through the pre-arrangements with Signature Funerals, we will provide you with the cost. This is a fixed amount that will not change once you finalise the terms. With this cost in mind, you may find it ideal to pre-pay for the service as well. Though this is completely optional, many people find it a valuable opportunity.
Bendigo Funeral Bonds by Signature: a safe way to pre-pay
The sudden financial burden of a funeral can be difficult for a family to manage, especially in a time of grief. For many, protecting those whom you love from this pressure is an important goal. The peace of mind families experience after pre-payment is a key factor that encourages many Australians to make such arrangements. For those who wish to pre-pay, Signature Funerals works with the Australian Friendly Society to provide the Signature Bendigo Funeral Bond. Individuals can contribute funds to this bond up to the amount previously determined while planning.
The Bendigo Funeral Bond is a flexible option for families with a simple function. Its sole purpose is to gather funds to be used to cover the cost of your funeral services. It is an investment plan based on your savings, and it operates securely to protect your investment.
The key benefit of paying into this bond is the guarantee it affords your family. The bond guarantees full payment for the funeral service you've pre-arranged.
Receive Caring Funeral Service Assitance Today
Signature Funeral Services has highly trained consultants ready to work alongside you today. Receive thoughtful help and guidance as you consider your plans for funeral pre-arrangements. To begin the process, speak to one of our consultants today. With 24/7 availability, just call (08) 82810260 anytime, day or night, for immediate assistance.