Funeral Homes & Directors in Salisbury
Losing a loved one is a difficult time for everybody concerned. At Signature Funeral Services, we aim to support you through this difficult time by helping you to create a, dignified and fitting funeral. Also as one of the leading Salisbury Funeral Directors, as our Funeral home is located closley in Para Hills West, we not only create personal funerals,  we also offer fixed-cost funeral packages that are all-inclusive and fairly priced.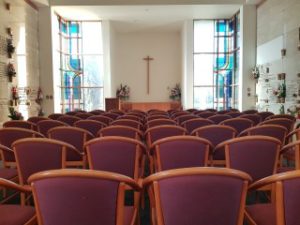 Our Salisbury funeral packages reflect the life of your loved one, but don't cost the earth
We believe that everyone, regardless of financial status, deserves a dignified and thoughtful funeral. So choose Signature Funeral Services to organise a funeral.
Our all-inclusive funeral packages include everything from beautiful caskets, silk floral displays, appropriate celebrants and carefully chosen music to all the basics such as mortuary care and preparation, funeral notices and transportation. See here for all the detailed inclusions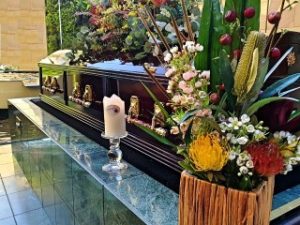 Signature Funeral Services, the funeral directors Salisbury families can trust
Families in Salisbury place their trust in Signature Funeral Services as their reliable funeral directors. Because we understand the significance of honoring loved ones and are dedicated to providing compassionate and professional support during these challenging times. Our committed team assists families with every aspect of funeral arrangements. Ensuring that each service is a heartfelt reflection of the unique life and legacy of their family member.  Therefore creating an atmosphere of solace and remembrance. Rest assured that when you choose Signature Funeral Services, your loved one's final farewell is handled with care and expertise.
Plan and prepay
One way to make your passing a little less stressful for your loved ones is to plan and prepay for your funeral now. We offer a prepayment option on all our funeral packages, so you can specify exactly how you wish your funeral to be.
From planning your music, flowers and casket to deciding on whether you'd prefer burial or a private cremation in Adelaide, you can detail all your final wishes and pay for the service in advance.
Therefore this gives you the peace of mind that all the organisation is taken care of. And that your family aren't left with the stress of having to find the money to pay for your funeral.
Experienced funeral services
Bereavement can be an incredibly stressful time. Not only are you grieving , but you must think about and plan a funeral service as well. If you are looking for independent and professional funeral director providing funeral services. As apposed to a Salisbury funeral home. We located closley in Para Hills West. We can help to relieve as much of the stress as possible by helping you to plan the perfect goodbye.
Our experienced funeral directors can ensure you have all the details sorted. So that you can concentrate on spending time with your family during this time of grief. We understand that while grief never totally disappears. Having a dignified and respectful funeral in Salisbury can help to provide closure. By being able to say goodbye and start the healing process.
Our funeral directors help you plan your funeral with ease in Salisbury
If your family member left any instructions on what they wanted to happen, your decision might be easier. Our funeral director located close to Salisbury can talk you through the options and help you to come to the decision that is right for you and your family.
Traditional burials are a good option for those who would like to have a graveside to visit and place flowers.
Another increasingly popular option is cremation. This option is cheaper than a traditional burial. So it is a good option for those who are on a tighter budget. And it is more environmentally friendly. Many people choose to scatter the ashes in a favourite place of the deceased. Scattering the ashes can be a good opportunity for close family members and friends to come together to say goodbye in their own time.
Our funeral directors will help with all the details and ensure that nothing is forgotten.
As Salisbury's premier funeral director, our dedicated team is here to guide you through the funeral planning process with compassion and understanding. We will listen to your needs and wishes, ensuring that every decision is made with your loved one's best interests at heart.
 Tailored Services for Salisbury Families
We believe in the power of individuality. Each person is unique, and their funeral service should reflect their life's journey. Our experienced staff will work closely with you to create a tailored service that captures the essence of your loved one, ensuring a meaningful and heartfelt farewell.
Caring for Your Loved One with Dignity
Entrusting your loved one to your Salisbury Funeral Director, a team that treats every person with utmost dignity and respect. Our professional staff will handle all aspects of caring for your loved one, ensuring meticulous attention to detail and providing a tranquil environment for them to rest in peace.
Supporting Salisbury Families Every Step of the Way
During this challenging time, your Salisbury Funeral Director is committed to supporting you and your family. We understand the emotional weight that accompanies loss, and our compassionate team is here to provide guidance, answer your questions, and offer unwavering support throughout the entire funeral process.
Honouring Memories in Salisbury
As your Salisbury Funeral Director, we offer a range of memorialisation options tailored to meet the diverse needs of Salisbury families. From traditional funeral services to unique celebrations of life, we will work closely with you to create a personalised tribute that truly reflects your loved one's life and legacy.
Conclusion:
Your Salisbury Funeral Director is dedicated to serving the Salisbury community with integrity, empathy, and professionalism. We understand the significance of saying goodbye to a loved one, and our mission is to provide compassionate support and tailored funeral services that honour their memory. Let our Funeral Directors be your trusted partner during this difficult time, as we strive to ensure a meaningful and heartfelt farewell for your loved one. Contact us today to learn more about our services and how we can assist you in your time of need.
Clear & transparent pricing at Salisbury
Signature Funeral Services will bring you the perfect send-off  at a fair price. We have clear and transparent pricing options to suit all budgets. Because we can plan a bespoke service, that allows everyone to say goodbye.
Our and caring staff work with you in your home. To help make the final arrangements, as we understand that you want to be comfortable during this difficult time.
Contact Salisbury funeral directors, Signature Funeral Services
As experienced funeral directors near Salisbury Located in Para Hills West. Families can rely on our funeral directors in Adelaide to handle everything.
We're here to support you. Don't hesitate to contact us on (08) 8281 0260, or 1300 199 299, send an email to [email protected], or complete our online form.
The funeral was flawless. all the costs of the funeral were clearly stated and adhered to with respect and integrity.