Prepaid Funerals & Funeral Plans in Adelaide
While we'd all like to live forever, we know that we're not immortal. We also know that it's inevitable that every family will suffer the loss of someone close, and if you've ever experienced such a loss, you'll know what a difficult time it can be.
While we can't take that pain away, as experienced funeral directors, Signature Funeral Services can help you to plan for your funeral and ease the pain for your family members by providing you with the kind of prepaid funeral plans Adelaide people trust.
Prepaid Funerals in Adelaide Deliver Peace of Mind During Tumultuous Times.
The loss of a loved one finds many individuals unprepared – both emotionally and financially. Trying to navigate the arrangement process is a great strain, with families still reeling from their grief, they're unable to create fitting tributes.
Signature Funeral Services understands the difficulties our clients face. This is why we offer prepaid funerals in Adelaide, allowing families to plan their memorials in advance and spare others the stresses of decision-making. We provide peace of mind, ensuring that all details are correctly planned (and executed).
Prepaid funerals in Adelaide allow families to celebrate their loved ones fully, piecing together custom testimonials. These may include:
Type of Service (graveside, garden, cremation).
Type of Venue.
Type of Casket.
Type of Memorial (floral arrangements, music selection).
Every detail is decided in advance, affording families time to assess — and address — their particular needs. It also relieves the financial burdens associated with funerals. These arrangements offer fixed fees, as well as pre-payment plans. This ensures more efficient budgeting for all.
Signature Funeral Services believes that every family deserves a dignified ceremony. Through our prepaid services, we help our clients achieve that obstacle.
End-of-life Planning for your funeral is easy with one of our funeral plans
Planning for your funeral may seem a little morbid to some, but if you've ever suffered the loss of a loved one, you'll understand how the numbness of grief can often prevent you from making important decisions. If you want to spare your family the stress of arranging your funeral, not to mention the burden of having to find the finances to pay for it, our Adelaide prepaid funerals are the perfect solution.
We offer you the chance to provide every little detail of how you'd like your passing to be acknowledged with one of the best funeral plans in Adelaide.
Our prepaid funeral plans give you the peace of mind you deserve
While we have an excellent reputation for helping grieving families to organise funerals for their loved ones, in our experience most bereaved families still find the whole process very challenging.
One way to reduce the stress is by securing one of the Adelaide funeral directors, Signature Funeral Services offer. Just like all our other funeral packages, our prepaid funerals come at a fixed price, so that you can choose a funeral that not only reflects you and your life, but that's within your budget.
This not only ensures that you get the farewell you'd like, but that paying for your funeral doesn't become a financial burden for your family. Isn't that a wonderful parting gift to leave to your loved ones?
Choose a funeral service that reflects you and your life
Many people wish that they could be a fly on the wall at their own funeral. By pre-planning your funeral, you'll know exactly where the celebration of your life will be held, you can specify whether you want flowers and floral tributes, and you'll even get to choose your play-list of music.
You can choose your casket, your choice of burial or a private cremation in Adelaide, and where you'd like your final resting place to be. In short, you get to choose the details, so others don't have to second guess them for you.
Arrange an appointment to discuss prepaid funeral plans in Adelaide
Don't burden your loved ones with organising your funeral. Take the initiative and organise your own.
Make an appointment with one of our funeral directors by calling (08) 8281 0260, or 1300 199 299, sending an email to [email protected], or completing our online form. We orginise & manage funerals in South Australia as well as Adelaide including in Elizabeth, Enfield, Salisbury & Centennial Park.
Signature Funeral Services
Client Services
PO Box 494
Enfield SA 5085
Phone: (08) 82810260 or 1300199299
Fax: (08) 82810222
Email:
[email protected]
Proudly South Australian Owned & Operated
Contact Us Online
Send us an enquiry via our online form. Our team will gladly answer any questions or concerns about the prepaid process, as well as offer suggestions.
The funeral was flawless. The service, held at St Patrick Catholic Church in Grote Street, was followed by an interment at the historic West Terrace Cemetery.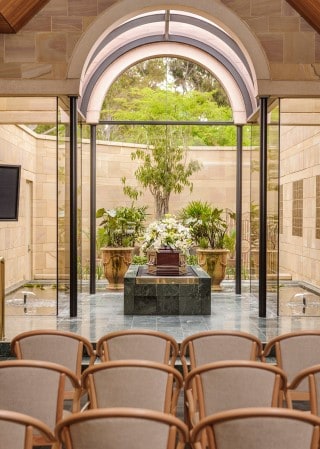 Mawson Chapel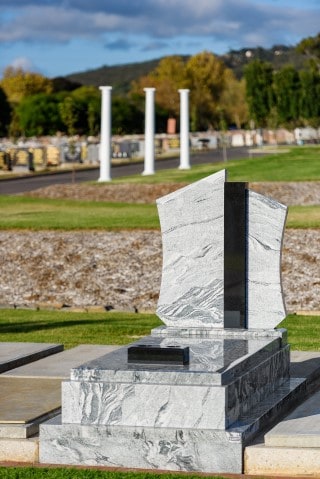 Centennial Park Grave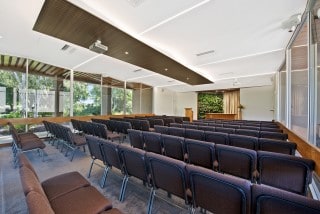 Folland Chapel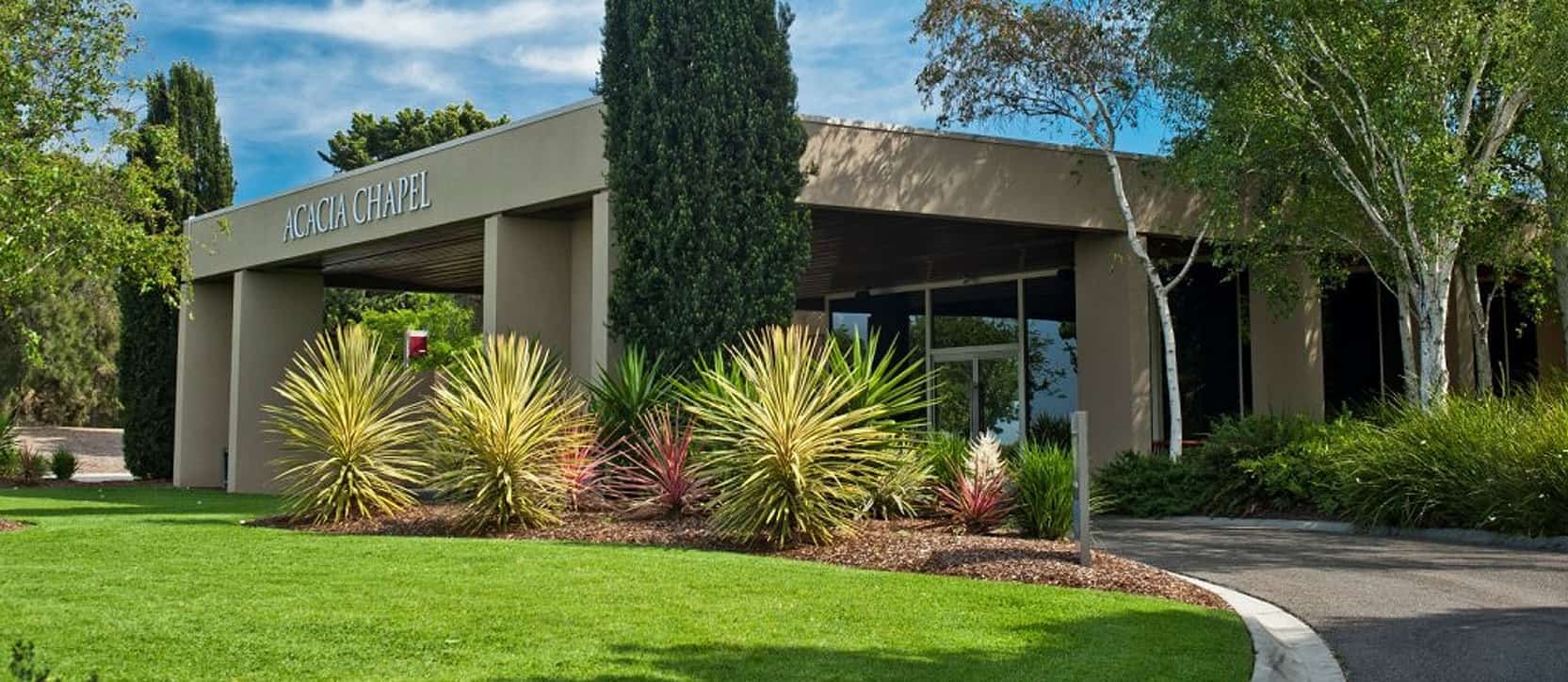 Acacia Chapel
Prepaid Funerals in Adelaide
Introduction
Welcome to Signature Funeral Services, where we recognise the importance of planning for the future. Preparing for the inevitable can be a sensitive topic, but it's essential to ensure that your loved ones are taken care of when the time comes. In Adelaide, our team is here to guide you through the process of prepaid funerals, offering peace of mind and support during difficult times.
Why should you consider a prepaid funeral?
By making arrangements in advance, you can relieve your family from the burden of making difficult decisions while grieving. It allows you to personalise your service and make specific requests, ensuring that your funeral reflects your wishes and celebrates your life in the way you desire.
Simplifying the process
At Signature Funeral Services, we have simplified the prepaid funeral process. Our team will assist you in selecting the services you desire, including the type of ceremony, casket, flowers, and music. We will work closely with you to create a personalised plan.
Lock in today's prices
By choosing a prepaid funeral, you also lock in today's prices, protecting your family from future cost increases. It's a wise financial decision that can alleviate the financial burden on your loved ones and give you peace of mind knowing that everything is taken care of in advance.
Our dedicated staff understands that discussing end-of-life matters can be challenging, especially for younger individuals. However, planning a prepaid funeral is an act of love and responsibility. It allows you to make your wishes known and ensures that your family is not left with the stress of making difficult decisions during an emotional time.
Signature Funeral Services is committed to providing exceptional care and support throughout the prepaid funeral planning process. Our team will walk you through each step, answering any questions you may have along the way. We believe in creating a compassionate and understanding environment to make this process as comfortable as possible for you and your family.
Conclusion
Take control of your future and give your loved ones the gift of peace of mind. Contact Signature Funeral Services today to learn more about prepaid funerals in Adelaide. Our caring team is ready to assist you in creating a personalised plan that honours your wishes, celebrates your life, and eases the burden on your family when the time comes.